Delta Kits professional windshield repair resins are highly sought after for consistent quality, affordability, durability, clarity and ease of use and are preferred by professional windshield repair technicians worldwide. All Delta Kits resins have been laboratory and field tested by trained, experienced professional repair technicians. Technicians know they can count on rock chip repairs completed using Delta Kits resin to last the lifetime of the vehicle.
FORMULATED FOR VERSATILITY, UNBEATABLE PERFORMANCE
Which resin is right for you? Explore the differences of our line of injection resins, pit filler resins, and plate glass resins in our resin comparison chart! The chart breaks down the viscosity, toxicity, bonding strength, types of breaks, elasticity, and shore hardness of each resin as well as optical clarity and available sizes.
LIMITED LIFETIME WARRANTY
FEATURED: PREMIUM BOND 20
An all weather, low viscosity, flexible professional windshield repair injection resin. With only 20 cP, Premium Bond 20 is 30x more flexible than traditional injection resins. Excellent choice for bullseye & combo breaks. What are you waiting for? Make the change today.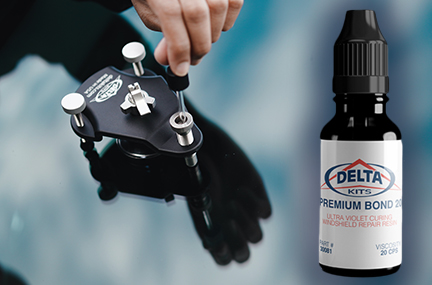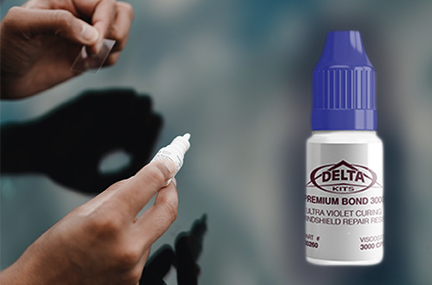 POPULAR: PREMIUM BOND 3000 RESIN
It's high viscosity makes Premium Bond 3000 resin the best pit fill resin for all weather conditions and it can also double as a plate glass repair resin. With unparalleled shore hardness and superior tensile strength, Premium Bond 3000 is the best pit filler money can buy!
DELTA KITS PROVEN QUALITY, BACKED BY EXPERIENCE
It seems to fill the chip in and has very clear optics. Since using it my failed repairs have dropped noticeably.
Delta Kits new Premium Bond Resin 3000 and Premium Bond 20 are awesome. I am very satisfied with the visual and bonding of these new products. My customers are also very happy with the final results. I am very confident with my guarantee now and will use the 3000 series in the future. Thank you Delta Kits.
It's a very consistent resin that fills easy, if you're using something else after a few different chips you will see how much this product makes your work easier! I highly recommend for all different chips of size and shapes.