Say you're interested in a product or service, so you research its pros and maybe its cons… but what else do you look at? What prompts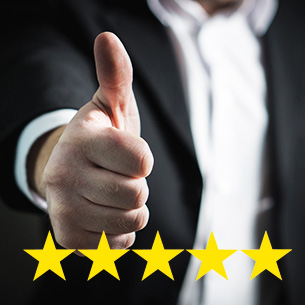 you to try something new? Or to look twice? And most of all… what pushes you to buy? Think about it. If you're anything like me, it's not always the product's or service's benefit or price that sells you… but many times it's reading, hearing, or seeing what others think about that same product or service.
I'm talking about customer reviews. And research backs that up –Research shows that 91 percent of today's shoppers regularly or occasionally read online reviews, and 84 percent trust online reviews as much as a personal recommendation.
Want to attract new customers? It's time to start gathering – or boosting your efforts in collecting – customer reviews for your business. The short answer on how to do this is… "Ask for them". Every customer gives you an opportunity for customer feedback. Here are a few ways to get what you want:
---
Ask Directly
Dive into your customer list and follow-up with your best customers. See if they're willing to offer a verbal review or testimonial that you can use for your marketing purposes. We do this at Delta Kits!
Offer info for Feedback
You can do this in person, via Email, or even via snail mail shortly after an appointment. The goal is to let your customer know how to give feedback. We do this at Delta Kits! For our own services, we created a flyer that we give to customers after they've received a service from us that details how they can leave us a review via Facebook, Yelp, Google My Business, or mail. We also send follow-up emails with this info.
Feedback Section
Include one of these on your website so customers can easily find a place to leave you feedback or reviews. We do this at Delta Kits!
---
Once you have gathered your customer reviews, that's when the fun can begin – Now you can share all of this great info on your channels – Facebook, website, Google My Business, etc. – It's like free advertising.
We've seen a HUGE value in collecting reviews from our customers – and not just for the goal of sharing with potential new customers… Feedback gives us the opportunity to improve PLUS lets us know how we are helping our customers! At the end of the day, it makes all of the hard work we do worthwhile!
So go ahead, start getting those reviews today!
Want to see how Delta Kits does it? Check out some of our reviews on Facebook, our website, and Google My Business.
If you have any questions or comment, please let us know! Happy review hunting J