This windshield repair training is a hands-on, intensive, one day course designed to take your repair quality to the next level. Whether you are just starting out or are a seasoned pro, this class is right for you!
Our team of experienced technicians are dedicated to offering the highest standard of training in the windshield repair industry. During the Delta Kits Training and Certification course, technicians are trained to follow ROLAGS (Repair of Laminated Auto Glass Standards), the industries best practices. Delta Kits Training and Certification covers all technical aspects of windshield repair and will take you from never having completed a repair, to being among the best technicians in the industry. The marketing and insurance billing discussion is designed to help you become more successful in your windshield repair business.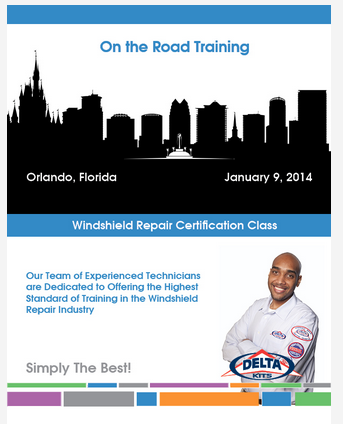 Benefits of Training:
Significantly reduce the learning curve in windshield repair.
Set your expectations for what a professional high quality windshield repair should look like.
Increase confidence.
Great business startup information and advice.
Learn the in's and out's of insurance billing.
Get a leg up on your competition by learning the marketing techniques of established, successful windshield repair companies.
Learn correct windshield repair techniques first, or unlearn bad techniques.
Networking with your fellow technicians.
Become factory certified by Delta Kits.
Use of the Delta Kits name and certified technician logo to enhance credibility.
Registration deadline for the Orlando Training:December 9, 2013.