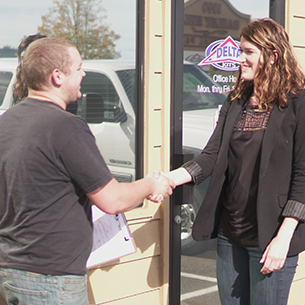 Build Relationships with your Customers
We'd all rather go to the friend's house that is welcoming and warm; instead of the acquaintance who pays no attention to you, right? Guess what – it's the same with customers!  How are you treating your customers? As a windshield repair technician and/or small business owner, you have the advantage when it comes to building customer rapport that keeps them coming back and referring newcomers. Why? Because YOU are the one who's directly interacting and influencing the customer, working to build a strong  relationship and ultimately a connection.
One way to approach customer service is by examining how you treat the people who enter your place of business. Do you treat them as you might treat a friend? Regardless of how well the repair or headlight restoration turns out, the customer is more likely to talk negatively about a bad experience and not return. On the flip side, if they enjoyed their experience, they will spread the love, helping you to gain customer loyalty and a positive word-of-mouth reputation.
Take a look at these pointers to build a better relationship (and more revenue) with your customers:
Communication is Key – Rather than just talking to your customer about your business, have conversations with them and ask questions; find out what they need and show them a solution to their problem. If you have employees, make sure they know how to effectively communicate with customers. For example, hold role-play training sessions to increase comfort level of interactions, create helpful phone or walk-in scripts, and maintain an employee policy regarding timely follow-ups.
Always Try to Exceed Expectations – Simply put, how can you raise the bar on what you offer? Maybe you can fit in one more repair for the day, offer extra chip-savers or other swag after the service, or offer loyalty program discounts for customer birthdays, anniversaries, or holidays.
Ask for Feedback – Customer feedback helps you hone in on what you can do better, PLUS it gives the customer the chance to make their feelings known. Listen carefully and respond promptly and accordingly.
Engage your Customer – Whether it's with social media, email or snail mail, your website, or other online tools, engage current and new customers with questions, promotions, or fun information. This helps set you apart from the competition.  It also gives your business a personality that your customers will want to do business with.
And there you have it! When you treat customer service as a relationship, you will reap the rewards of building trust and [hopefully] sales! And for us, here at Delta Kits, it feels good to go out of our way to help.
We'd love to hear how you've built strong relationships with your customers! How are you treating your customers? Let us know.