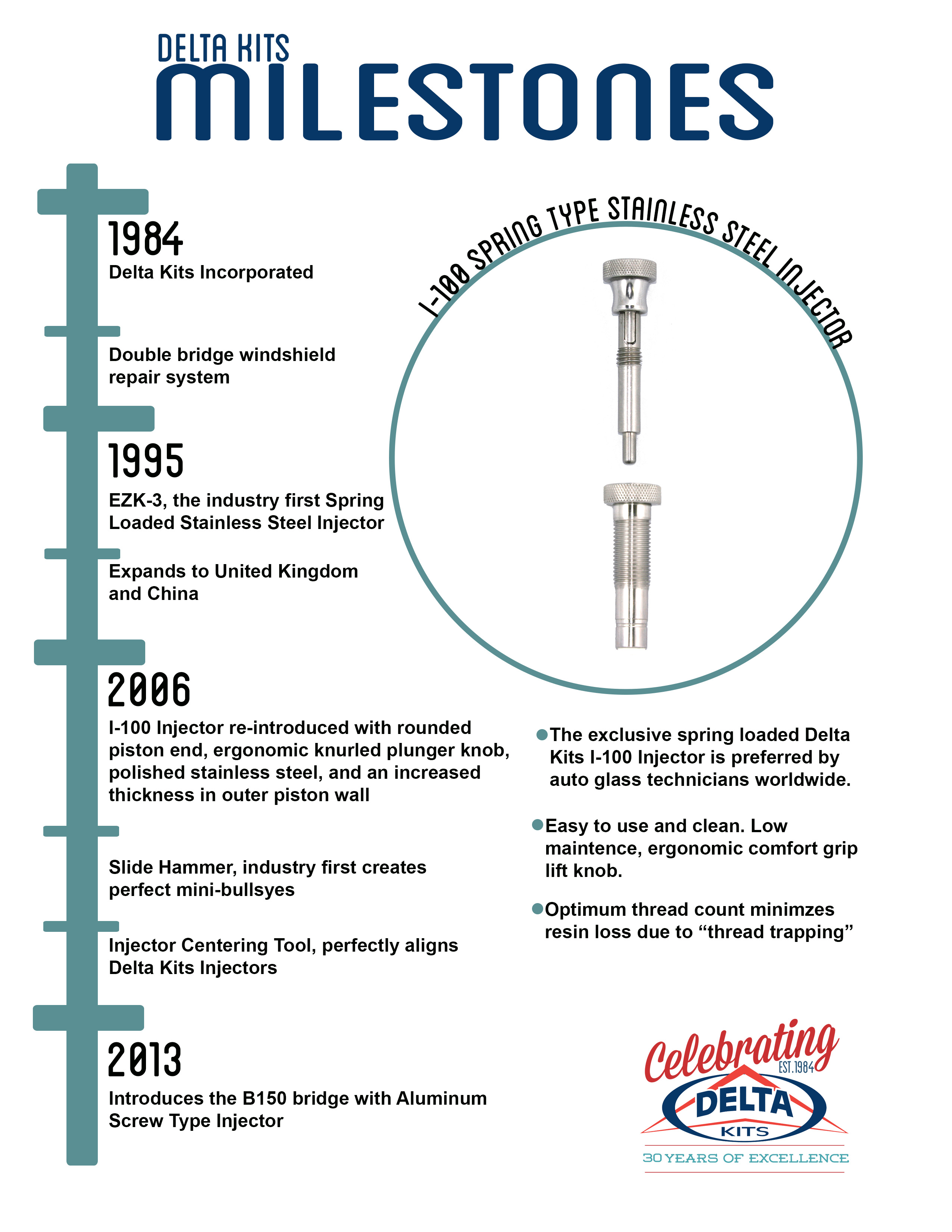 In celebration of our 30th Anniversary milestones, we'll be taking a walk down memory lane every month and featuring some Delta Kits milestones. For May, we highlight the Delta Kits Windshield Repair Injector.
1984 Delta Kits Incorporated
Then, the double bridge windshield repair system
1995 EZK-3, the industry first Spring Loaded Stainless-Steel Injector
Expands to the United Kingdom and China
2006 I-100 Injector re-introduced with rounded piston end, ergonomic knurled plunger knob, polished stainless steel and an increased thickness in outer piston wall
Slide Hammer, industry first, creates perfect mini bulls eyes
Injector Centering Tool, perfectly aligns Delta Kits' injectors
2013 Introduces the B150 bridge with Aluminum Screw Type Injector
Also, the exclusive spring-loaded Delta Kits I-100 injector is preferred by auto glass technicians worldwide.
Easy to use and clean, Low maintenance, ergonomically comfort grip lift knob.
Optimum thread count minimizes resin loss due to "thread trapping"
---
Despite a failing economy, the windshield repair industry held strong in 2009, and Delta Kits celebrated the close of its 25th silver anniversary with record sales and several other company records.
 April 2009 – Best month in company history.
Also in Quarter 3, 2009 – Best quarter in company history.
2009 – Best year in company history. Over 30% sales increase over 2008.
Most certifications – Over 100 windshield repair technicians trained and certified by Delta Kits.
Additionally, the most charitable contributions – Over $43,000.00 donated to charities, much of which was used to provide clean water to people living in 3rd world countries.
Delta Kits also introduced a number of new products in 2009. Additionally, here are a few of the most popular.